International Service Projects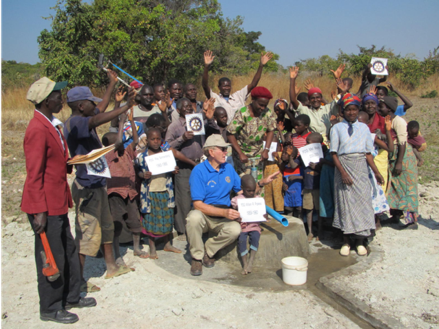 International service is an important part of our club's fabric since its inception in 2012. Our club's members have been active in Malawi Africa, Nicaragua and Mexico. Each year we also financially support the Belize Children's Project which helps Belize children who have an orthopedic disability through a partnership with Shriner's Hospital in St. Louis.
Service In Malawi
Members have been to Malawi Africa on four trips beginning in 2011. The Malawi team has focused on providing clean water to villages and schools via water wells, providing secondary school scholarships, feeding orphans and grade school children. The Malawi team estimates they have impacted the lives of thousands of people.
Most recently, bunk beds were provided to 60 grade-school boys with partial funding provided by means of a district grant funded through The Rotary Foundation. This project also provided several deaf students attending a nearby school for the deaf an opportunity to enhance their woodworking skills as they were built in the school's woodshop.
During the past two years, water wells were provided to more than 30 villages. In each of the last two years, food was provided to approximately 2,000 grade-school children and to more than 100 orphans during the two months preceding harvest when food is in short supply.
The Malawi Team will be returning to Malawi in November 2019 to follow up on existing projects and identify new needs.
The Belize Children's Program identifies children in Belize with orthopedic conditions who could be helped at Shriners Hospitals for Children in St. Louis. Rotarians make arrangements for visas, transportation, and medical appointments for the patients and their family members, while the children are treated free of charge at Shriners Hospitals for Children. The program also places the children with host families during their stay, and safely returns them to Belize after their therapy is complete.
Nicaragua
The A. Jean Brugger Educational Project is a non-governmental organization focusing on improving the education and economic opportunities within a 36 community region. We have been supporting their efforts since 2006. In 2020 they aquired a new office locations nd we are helping fund furnishing so they can support their community.
We've also partnered with the Rotary Club of San Juan del Sur to fund a water well and dictionaries for local children.