Serving Our Community
New Suits for Veterans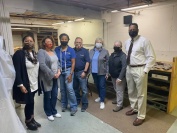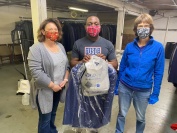 The Rotary Club of O'Fallon Sunrise distributed 107 suits and vouchers to Active Military and Veterans over the last two Saturdays.
The Club teamed up with HEROES CARE, a charity based out of Fenton, Missouri, which has been running the Suits for Soldiers event for several years. Also supporting are the Hugh J. White Tuskegee Airmen Chapter, the Tricounty Veterans in Need and Omega Psi Phi.
All suits are free and done on a first come first serve basis and are under a limit of 1 per person. Suits include jacket, tie, shirt and slacks. Men and women who cannot find a suit in their size are able to get vouchers for one, free of charge.
Children's Book Collection - Christian Activity Center
Food Pantry Garden
Backpack Project
One of our many Community Service projects for 2019-20 was to work with Project Backpack in St. Louis by donating money to purchase backpacks as well as by going to the warehouse and packing the backpacks for distribution.
Project Backpack is a wonderful organization that provides backpacks filled with essential items to at-risk children. Such children are removed from their homes due to domestic violence situations, neglect, abuse, or natural disaster. each backpack contains age and gender appropriate items including clothing, toiletries, books, school supplies, toys, and other comfort items.
While we love to,as a club, donate money to worthy causes, it is always an additional honor to be able to hands-on do some work to contribute to the community.